Folk at the Bloodhound -Barleyshakes, Fly Little Sparrow, Zumpa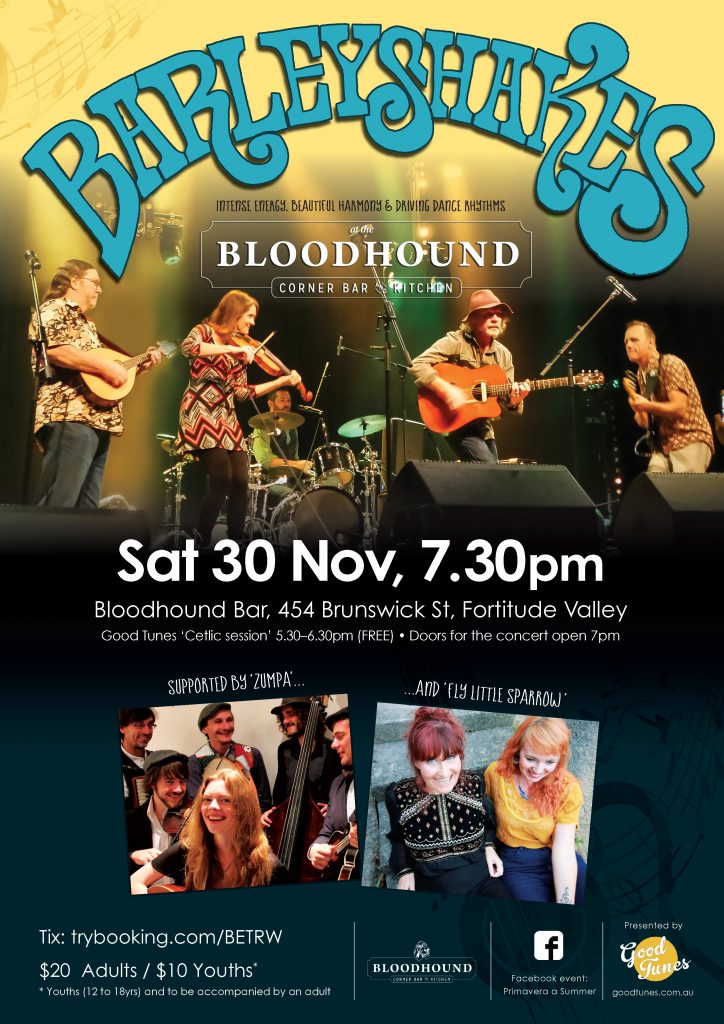 It's time to party as we celebrate primavera (spring) moving into summer with the Celtic sounds of The Barleyshakes, the smooth silky voices of Fly Little Sparrow and the crazy Italian folk Zumpa.
Tickets are limited to only 110 in the intimate Bloodhound Bar on the edge of Fortitude Valley.
Adults $20, Youth 12 to 18 $10
Tickets online at: www.trybooking.com/BETRW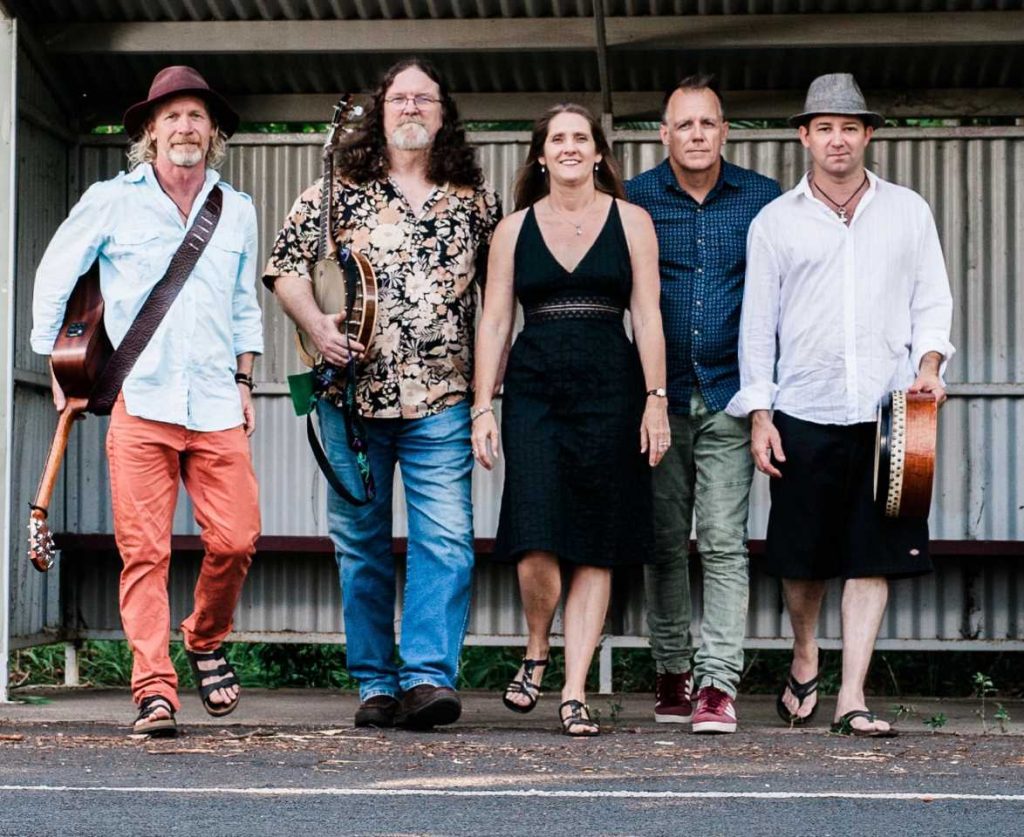 Brewed in Ireland and distilled in Australia the Barleyshakes are a Celtic band with world music influences who combine intense energy, beautiful harmony and driving dance rhythms in their live performances. Adored throughout Australia and beyond for their "bent" Irish sound.
The tradition of Irish music is long, deep and wide and remarkably brilliant. That the Barleyshakes manage to hold hands with this awesome history while simultaneously infusing it with a fresh and contemporary spirit is remarkable.
They've always done it that way but with each new album those bonds are strengthened and illuminated in ways that make you wonder where they will take them next. Their latest album "Grateful" is beautifully recorded, spacious and filled with scintillating musical conversations.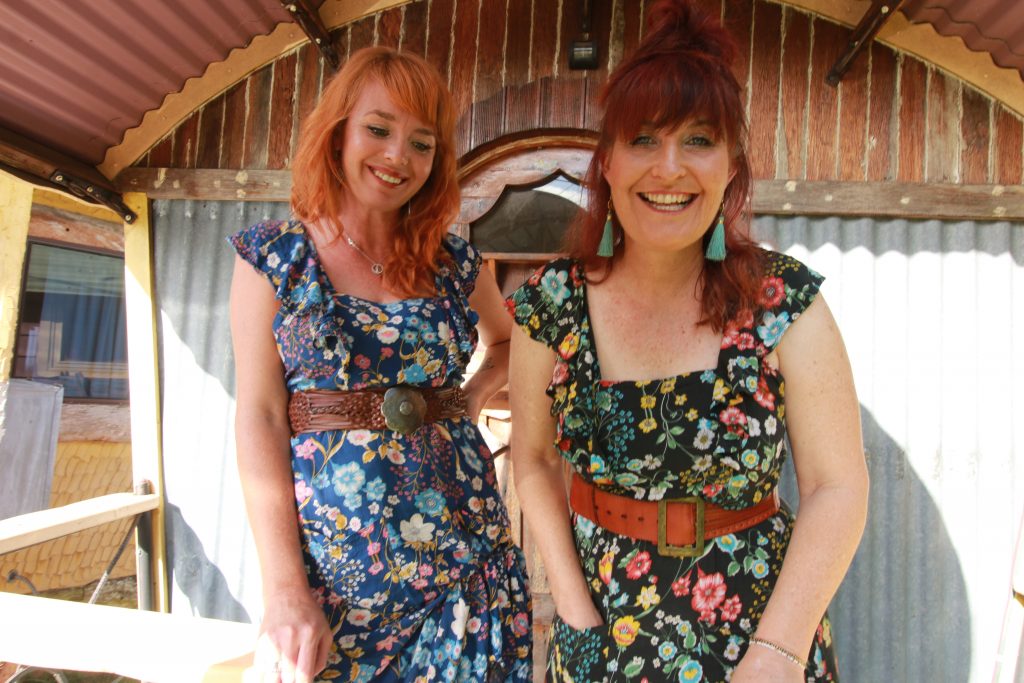 Lisa Lazuli and Lizzie Flynn come together to sing harmonies that emulate riding on the wings of a strong-willed bird. Heading on a flight path of beautiful harmonic arrangements, their eclectic repertoire and commentary will take you on a journey from fragility to hope.
Fly Little Sparrow debuted at the 2019 Illawarra Folk Festival, with a five-piece line up which included double bass, violin, and drums. Songwriters in their own right, Lisa and Lizzie have performed in various bands and projects.
Lisa Lazuli, was a part of Triple J's first unearthed band 'Ode to a Goldfish', which saw her supporting acts like The Finn Brothers, Christine Anu, The Whitlams and many others. Lisa has also supported acts as a solo artist like Jeff Lang, The Idea Of North, and Lucie Thorne.
www.lisalazuli.com
www.facebook.com/ LisalazuliSongs
Lizzie Flynn writes songs that blend a little satirical storytelling with a lot of joyful emotion. She has been a vocalist and songwriter for a variety of bands and theatrical productions, and has performed at music festivals throughout Australia, including The Planting (Woodford 2018), Maleny Music Festival (2018) and Illawarra Folk Festival (2019).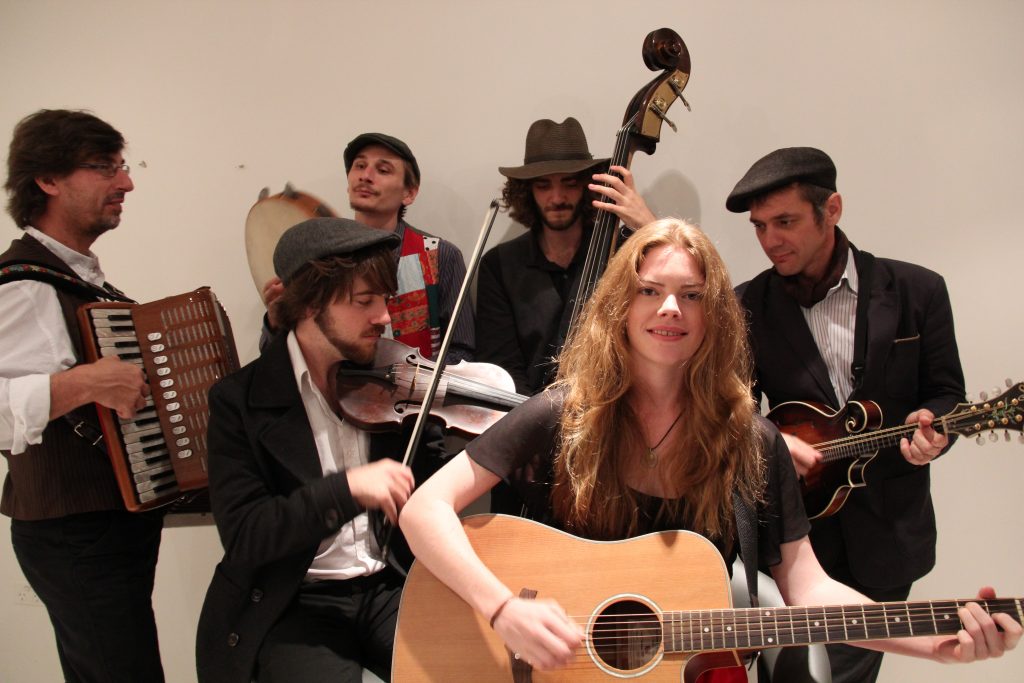 Be transported with Zumpa to forgotten Italian fishing villages, moonlit olive groves and a hard life under a hot sun where peasants play music to celebrate life with a fierce sense of humour.
They will play a selection of old and new Italian folk songs such as Santa Lucia, Funiculi Funicula, Bella Ciao, Tu Vuo Fa Americano and throw in some lively tarantellas and melancholy serenades.
Presented by David De Santi from Good Tunes.