Welcome to Good Tunes
David De Santi has been accumulating 'good' tunes for over 30 years and wants to share them! He has been involved in performing and publishing for just about as long as that.
This website has information how to get the music and where to play it. You can purchase collections of folk music tunes from around the world here.
There are also chances to play at Good Tunes sessions at Australian Folk Festivals and venues hosted by David De Santi. Regular (free) Good Tune Sessions continue in Brisbane at Papa Rossi (Italian Restaurant in South Bank) from 27 July 2020.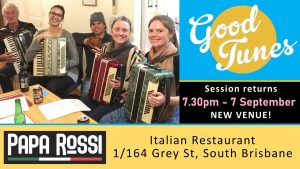 2020 GOOD TUNES SESSIONS
Monday nights at Papa Rossi (Italian Restaurant, South Bank) Google Map
Come along for a play or listen! And bring your friends if they just want to listen and enjoy the atmosphere, food and drink. The Sessions are every fortnight starting from 27 July 2020.
Facebook Event for 2020 Sessions
7 September
21 September
5 October
19 October
2 November
30 November
14 December
---
Check the STORE to purchase hard copy of tunebooks or purchase PDF e-books here.
Hard copies are also available at the sessions.
STOP PRESS: The Good Tunes CD (Volume 1) is now available with 40 tunes from the Good Tunes Book! Each tune is played twice so it will be a great way to learn and hear the tunes. CLICK HERE TO BUY
Further information from David De Santi EMAIL
Keep up to date on news and events on the FACEBOOK PAGE
SIGN-UP FOR REGULAR NEWSLETTERS